Porcelain 3D Square Plate TK-DVG19
Porcelain 3D Square Plate TK-DVG19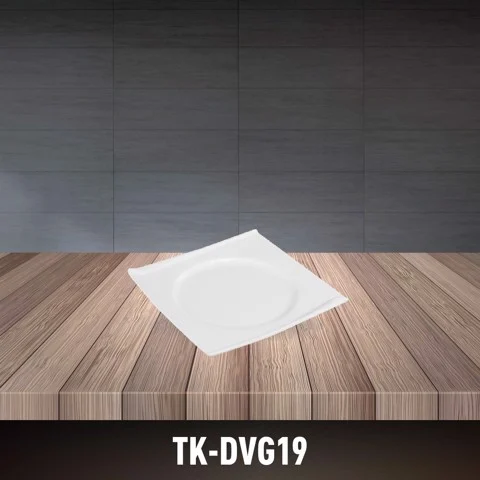 Voted: Porcelain 3D Square Plate TK-DVG19
Porcelain Art Collections are made of high-quality enamel material to limit odors, food grease, and is easy to wash and clean.
Brand: HC, Minh Chau, Trung Kien, Bone Porcelain
Origin: Thai Binh Vietnam
Materials: Kaolin, feldspar, quartz
Calculation temperature: 1,280°C for the first time – coated with lead-free enamel and then fired for the second time at 1,080°C to ensure safety for health.
Features: Porcelain Art Collections  are smooth white, high transparency, ultra-light, durable, heat-resistant, lead-free, non-contaminated with heavy metals, safe to use, easy to clean .
Safe with microwave: Yes
Safe with dishwasher: Yes
Feel free contact us if you would like to make a design with your own logo or ask for OEM – MOQ at: Hao Canh Vietnam Porcelain Manufacturer
WHY OUR PORCELAIN TABLEWARE?
Art of porcelain is a line of high-class porcelain products, safe for health, so many Vietnamese families trust it. Is the first choice for family kitchen cabinets as well as used in restaurants, hotels, luxury kitchens. Art porcelain with lotus flower pattern embossed with 18K gold border, high-quality enamel material limits odor, food grease, easy to clean and hygienic. Art of porcelain: smooth white, high transparency, ultra-light, durable, heat-resistant, lead-free, non-contaminated with heavy metals, safe to use.
Art of porcelain is suitable for all families. Products of round, oval porcelain plates, rice bowls, high-class porcelain bowls from Minh Chau are suitable for family, restaurant, hotel, filial piety trays, creating luxury but still keeping the price warm. traditional treatment.
The Art of Porcelain Tableware Collection