Large Porcelain Bowl BONE-T07
Large Porcelain Bowl BONE-T07
Voted: Large Porcelain Bowl T07 Minh Chau
Minh Chau bone china is made of high-quality porcelain material, which prevents odors, food grease, and is easy to clean. Porcelain bowls, porcelain plates, cups & mugs with elegant and delicate patterns, suitable for all families. Minh Chau porcelain table ware creating luxury but cozy preserving traditional values.
Brand: Minh Chau Luxury Porcelain Manufacture
Origin: Thai Binh Vietnam
Materials: Kaolin, feldspar, quartz and animal bone ash (mainly buffalo and cow bones)
Features: High-grade bone china fired at 1,280°C: smooth white, high transparency, ultra-lightweight, durable, heat-resistant, lead-free, heavy metal-free, safe to use , easy to clean.
Microwave safe: Yes
Dishwasher safe: Yes
Exporting MOQ: Contact us
Bone china is a type of porcelain made from animal bone ash mixed with the mineral feldspar (also known as Trang Thach) and white clay (kaolin). The first time is to bake wood bones at a temperature of 1,250°C – 1,280°C; the second time the enamel is fired at a temperature of 1,050°C; finally calcined and decorated at 800°C – 900°C. It is defined as high-luminity ceramic, containing at least 30% phosphate derived from animal bones and calcium phosphate.
Invented by British potter Josiah Spode, bone china is known for its high level of clarity and whiteness, durability and resistance to chipping. Currently, the production technology of China Bone porcelain has been imported and perfected by Hao Canh Porcelain, suitable for Vietnamese and international customers under the brand name Vietnam Minh Chau bone china porcelain manufactures.
The first development of porcelain, later known as Bone China, was initiated in 1748 by Thomas Frye of Bow's porcelain workshop near Bow City in East London. His workshop is located near the cattle ranch and slaughterhouse in Esex, so he has a wide range of uses for animal bones. Thomas Frye uses at least 45% animal bone ash in his recipe to create what he calls "fine porcelain". Although the quality of this product can compete with porcelain imported from Europe and China, his pottery studio was not successful in commercial use.
Later, Josiah Spode of Stoke developed further, and completed his formula sometime between 1789 and 1793.
Instead of burning bones with a few other ingredients like Thomas Frye, he just burned bones. Bone china quickly gained popularity and was introduced by other British ceramic manufacturers.
Both Josiah Spode's recipe and business were successful: his recipe with 6 parts bone ash, 4 parts minerals, and 3.5 parts clay still holds the groundwork for bone china.
Only in 2009, the Spode workshop was sold to the Portmeirion company. From its development until the late 20th century, bone china was almost exclusively owned by the UK, with production being restricted to the Stoke-On-Trent region.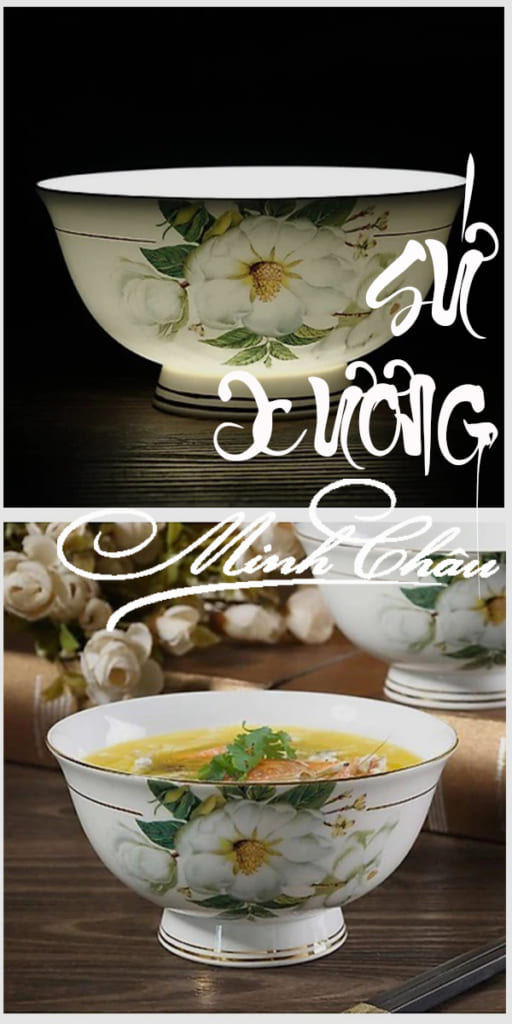 MINH CHAU BONE PORCELAIN COLLECTION
ESSENTIAL TABLEWARE FOR EVERY KITCHEN